About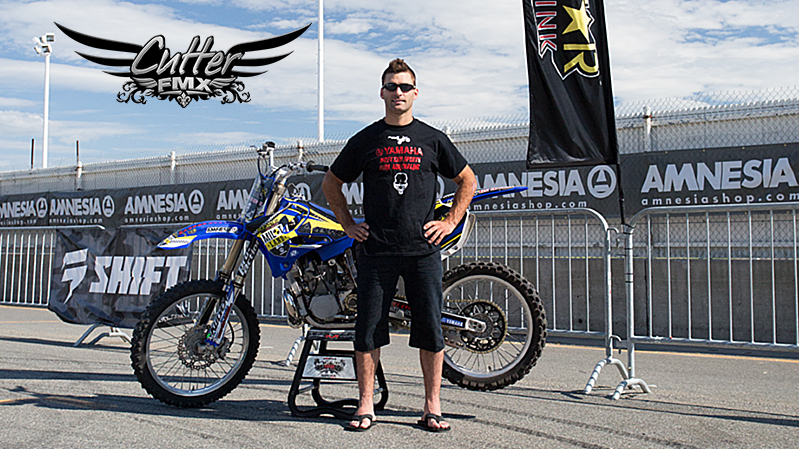 Steel Cutter, the person…
Being quite timid, Cutter is determined. He has learned not to wait on people to do things, he gets out and does it. He travels a lot, most of the time by himself. He only has a few friends, but he knows he can count on them. He is generous towards his loved ones and appreciates when they meet. Devoted and passionate are the words used to describe him. Always organized and meticulous, he aims for nothing else than perfection and this, in every aspects of his life. Polite and respectful, he is down to earth. Bounteous of his person, he always takes the time to answer to every question of his fans.
Steel Cutter, the rider…
Cutter is a freestyle motocross rider with a particular story. Indeed, he was 14 years old when he discovered this sport, which quickly became a passion. In 1996, he bought his first motocross as he wanted more adrenaline.
Everything started at Lebel-sur-Quévillon, where he was training with his mentor Tommy Fortin, who was the first Canadian rider to realise a back flip on a dirt bike at the Super Motocross of Montreal.
His motivation, his willpower and his quick learning capacity, entitled him to be known in the freestyle motocross community. Traveling in California for a year to improve his English, but most of all his riding skills, he came back to Québec and got a motocross specially made for freestyle. He then landed his first back flip with this new dirt bike in an event that he organized in Rouyn-Noranda. From the shows to the races, people talked about him until it reached Benoit Milot, who asked him to become an official rider in the Milot Land Tour. From this moment, his career took a huge takeoff, multiplying his appearance into the professional fmx scene.
Expertise
As he started to learn mechanic really young, he is manually skillful. He is always available to help his team members for mounting, dissemble or even for lights installation. He is good for spotting anomaly and could even fix them if he had the tools. He takes the time to do thing right and accurate, and doesn't hesitate to do it again to make it better. He is open-minded and available for constructive comment.